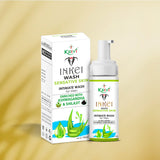 Inkei Intimate Wash Sensitive for Man The hygiene care expert 75 ml( Pack of 3)
About this Product
Enriched with natural ingredients like, Strawberry Ext. , Aloe-Vera, Ashwagandha Ext, Shilajit Ext
Extra Care for your sensitive skin .
It's 7 in 1 formula keep your intimate area clean, odor free, soothes itching &irritation, remove sweat protect from infection and inflammation . Provide strength to our private part.
Keep our intimate area fresh & Clean with fragrance of Rose which boost your self confidence.
Maintain the Ideal pH level of the intimate area.Which keeps intimate area free from bacterial and fungal infections.
Keep the intimate area clean by removing the residual left by condoms & lubricants.
It's unique natural ingredient Ashwagandha&Shilajit increase the strength of pelvic muscles and improve the blood flow in the male private part.
It also treats razor bumps and keep skin calm and soothed.
Sulphate and Paraben free product making it safe for everyday use.
Help maintain the ideal pH level of intimate area and keep your fresh & confident through out the day
Rose oil make you feel fresh and smell good
Reduce redness and inflammation
Remove the residue of condom and lubricants
Moisturize and soothes the intimate area
Freedom for itching and irritation
Freedom from fungal and bacterial infection
Take a few dabs of the rich foam onto the palm
Apply gently to the external vaginal area
Leave on for 20 to 25 seconds
Rinse with water and tap dry with a fresh towel
Foul smell from Intimate area
Irritation and Itching in intimate area
Difficulty to sit for long time
Low Confidence
Redness and Inflammation in intimate area
Distance in relation
Irritable nature
Dryness
Fungal and bacterial infection
Before using please do a patch test for any allergic reactions
Not for medicinal use
Store in cool place
Keep reach out of children
Avoid contact with eyes
very nice product and very useful product .i like this product .