-30%

Zoom the image with mouse
Sona Keshayur Belly Button Oil for Hair & Scalp
A combination of natural essential oil for long and shiny hair without any side effect.
Country of Origin: India
Promotes hair growth
Moisturises dry hair
Reverses hair damage
Improve scalp health
Restricts hair fall
Dandruff free scalp
Black & Shiny hair
Rinse or clean out your belly button and let it dry
Lie down comfortable on the bed or couch
Put a 3 to 4 drops of oil into your belly button and let it absorb into your skin by massaging it in a circular clockwise motion for beneficial result
In morning do not forget to clean the belly button
Do not use this method if you are pregnant or lacting mother
Before using please do a patch test for any allergic reactions
About this Product
Sona Keshayur  Belly Button oil is a perfect combination of natural essential oil. Scientifically the method of oiling the belly button is called "Pechoti Method" According to Ayurveda absorbing essential oils and scents through the belly button which sits right on the top of the small intestine which is responsible for food breakdown and nutrient absorption. The main reason for premature greying and loss of hair is unhealthy Gut. By using Sona Keshayur Belly Button oil we  stimulating the small intestine it activates sensory neurons there that respond to stretch and movement to the brain and the brain in turn sends order to the small intestine to start moving which allows key nutrients and minerals  to be absorbed by the small intestine and food broken down well enough for the large intestine to eliminate waste easily for excellent bowl movement which help in proper blood circulation and provide the proper nutrition, minerals  and protein to the hair which make the hair strong and healthy
Key Ingredients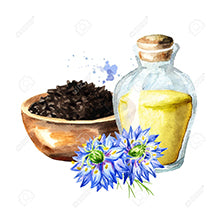 Black Seed Oil
Black seed oil help seal in the moisture in individual hair shafts because it is rich in amino acid. It promotes hair growth because it is rich source of Nigel lone and thymoquinone both potent antihistamines. It contains high amount of linoleic acid which helps prevent the reduction of the black pigment cells in your follicles which keep hair black and shiny. Black seed oil helps in regularise the sebum production in your scalp which ensure properly conditioned and healthy hair. It is full of nutrients, Vitamins and minerals which nourish and strengthen your hair.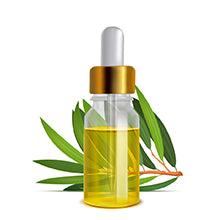 Tea Tree Oil
Tea tree oil helps prevent build up of chemicals and dead skin in shaft of hair. It prevent the accumulation of the dandruff. It keeps hair healthy and moisturized.